The Egmont Palace, dating back to 1548, is one of the most beautiful gems in Belgium's diplomatic heritage. Since 11 September 1992, the palace has been listed as a protected monument. Nowadays, it is used for receptions and meetings by the Belgian Ministry of Foreign Affairs and hosts many events and international conferences.
To stay up to date with today's most advanced conferencing technology, the palace's meeting rooms were due for a complete audiovisual makeover. First up was the Europa Room, a conference room with 440 seats, 28 translation booths and a control room. The AV renovation that took place in December 2021 was a fruitful collaboration with AV integration specialist Whitemilk is amongst the largest Televic Multimedia installations in Belgium.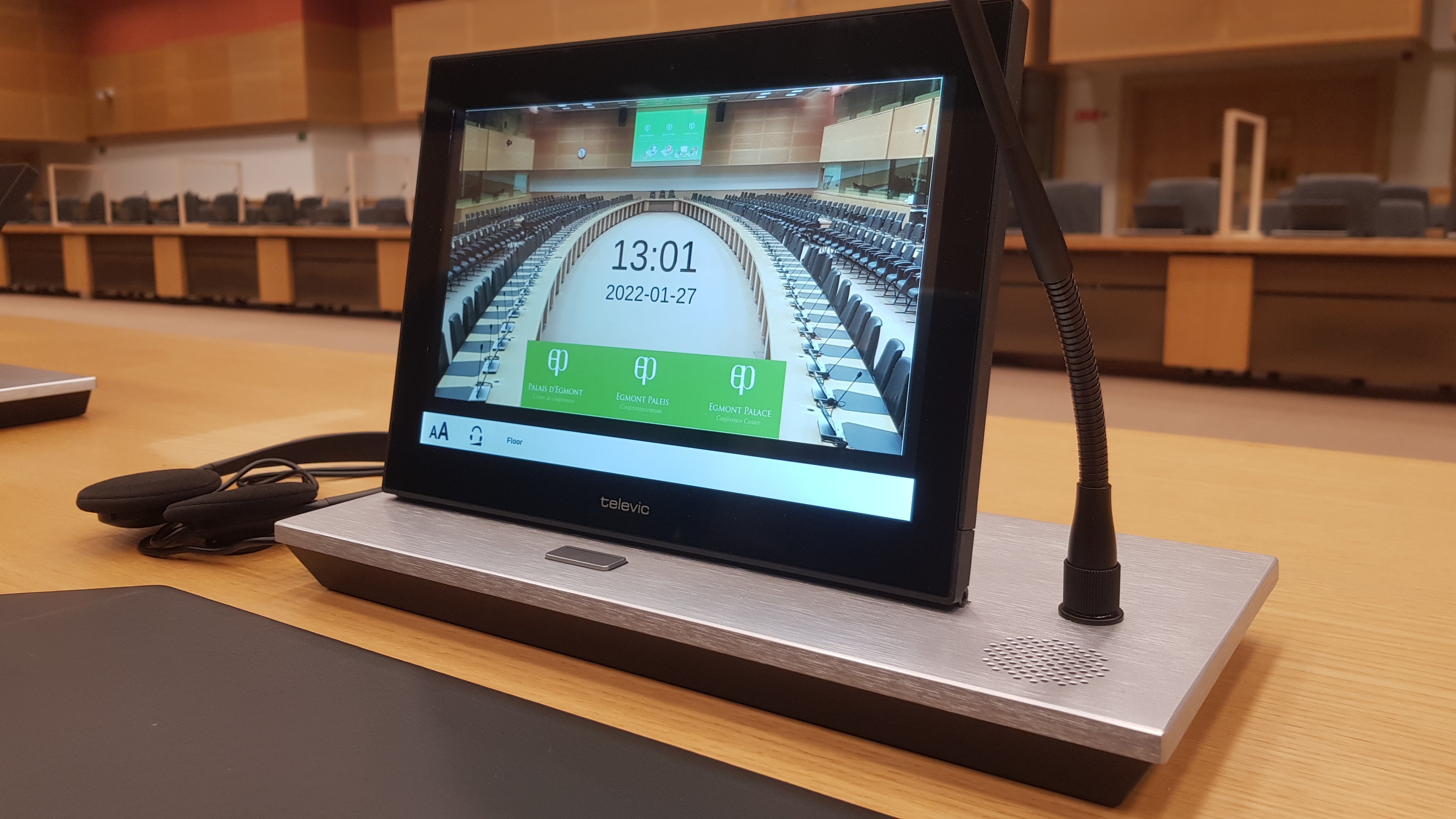 "Thanks to our cooperation with suppliers such as Televic, our team enjoyed the freedom to choose the best options imaginable without compromise. Televic not only delivered in time, but also produced to order." Jan De Keyser, managing director at Whitemilk
The project, assigned by the Belgian Ministry of Foreign Affairs, included a changeover of all network and power cabling for AV use, a new AV-over-IP system, a new discussion system (including interpretation for 28 languages) with extended possibilities, a new camera system and a renewed audio set-up.
The brand new Televic conferencing system is an integral part of a well-thought-out total layout of audiovisual material. With 200 Unicos delegate units with interactive touchscreens, 240 custom-made Televic F-CS multilingual audio panels and 2 T-Cam auto-tracking camera systems, the room now facilitates hybrid meetings and conferences, event streaming and broadcasting. And the room is easy to manage from both the chairperson's post as the control room. All 28 interpretation booths have been updated with 56 Televic Lingua ID interpreter units and 28 Video-Out boxes.
"We are proud to have realized this ambitious project within an extremely tight deadline. A great team effort by Whitemilk and Televic! The result is an impressive multimedia solution that will guarantee a streamlined meeting experience for political leaders from all over the world." Jurgen Van Muylder, Sales & Marketing Manager EMEA at Televic Conference
After the Europe Room, the rest of a complete audiovisual renewal of the Egmont Palace is scheduled. All halls are prepared for a hybrid future with standardized and user-friendly systems.